English Language Home Tuition, the best way to learn English in a comfortable and fun setting
About us
My name is Peter and I live in a large house in the city of Brighton, England, with my French wife, Corinne, and our daughter, Lily-Joy, who is nearly 4 years old. We are both non-smokers and have two cats. I sing in a band so, obviously, I'm very interested in music. I also enjoy football, travel, chess, wine, fishing and pool. In fact, in addition to tutoring English, I taught a recent student how to play pool.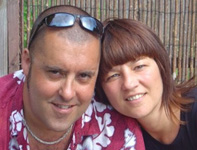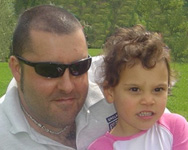 Peter and Corrine Peter and Lily-Joy
About Brighton
Brighton is a large cosmopolitan city on the south coast of England. Brighton is vibrant with much to do and see both in terms of popular culture and heritage, listed as one of the top ten visitor destinations for overseas visitors. The city is only 30 minutes by car from Gatwick airport and about an hour away from London. For more info on Brighton and the surrounding area I suggest you try this site: http://tourism.brighton.co.uk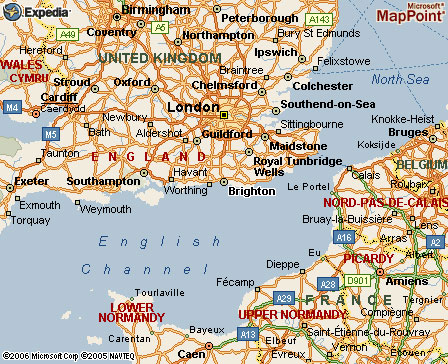 The cost
Prices are charged according to time of year, hours of required tuition and whether or not you need collecting from arrival point. You will find our prices very competitive. For a personal quote and more information please email me at:
info@english-language-home-tuition.co.uk or you can telephone 0044 1273 539 705.
To parents
An overseas study trip can be as daunting an experience for parents as it is for the traveller. It is our aim to offer experience of British family life as well as excellent English tuition. We understand students usually wish to keep in touch with parents for reassurance and to share news of their stay. As previously mentioned, we provide access to telephone and computer at all times. We also welcome any questions in advance of the placement to prepare for the trip. Please contact us with any questions you may have.
Comments and recommendations
"I am more than happy to recommend Peter Bywaters as an experienced and innovative One to One Tutor. Not only does he ensure that students leave him having improved their English, but he does it in such a way that they find learning great fun with him and always look forward to something different in their lessons. I applaud his methods as he is one of the few Tutors I know who can get teenagers to say they truly enjoyed his lessons! Well Done." Jackie Verrall, Director, English Language Homestays Limited

"Thank you Peter and thank you Corinne, I'm sure that thanks to you I gained a good grade in the English evaluation of the French Baccalauréat." Mathieu, student, France

"Peter is a very calm patient teacher and host. He went out of his way to try to make me catch the right spoken English and accent. Staying with Peter and his family was a fantastic experience. I would suggest Peter's teaching to anyone keen to get a quick proficiency and fluency in English language. Peter's in-house course is one of the best options in the UK." Marcio, student, Brazil

"As a mother of a 16 year old teenager, I appreciated a lot the stay of my son with Peter and Corinne in June 2006. The room for students and the house are both very cosy and comfortable. Corinne and Peter are a very friendly family. Students feel familiar very quick with them and they can improve their English without any stress." Dominique, student's mother, France

"The modern lessons suited my specific requirements and were very instructive. Peter really looks after his students. I enjoyed my stay in Brighton and I always like looking back on those two weeks." Dominik, student Switzerland
"I have been to the Bywaters' place each summer for three years. Peter and his wife Corinne are very nice and warm people, I enjoyed each of my stays. I improved my English during my stays, especially last summer because Peter helped me to work on English exams I will have at the end of the year." Charlotte, student, France

"My son Raphael really had a very good time in your family last summer. When he came back he stood there at the airport with a happy smile in his face and I knew immediately, that he had enjoyed the two weeks in your home. He dares to speak now and he understands the grammar better. Thank you once more so much for your effort."
Katharina, student's mother, Switzerland


Royal Pavilion, Brighton beach, Brighton Pier at sunset, seafront view, Brighton marina, Brighton Pier